Clinton Vs. Trump:
IBD/TIPP Presidential Election Tracking Poll
Full story: www.investors.com
Donald Trump expands lead over Hillary Clinton to a 2-point advantage. 
Trump 42% – Clinton 40%
---
Excerpts from the Mills Campaign Updates  
from John Eloranta, Campaign Manager
A few media updates on Stewart's race and growing momentum against Congressman Nolan:
The Eighth Congressional District race between Democratic Rep. Rick Nolan and GOP challenger Stewart Mills has now drawn the largest flood of outside cash in the country… Real Clear Politics moved Minnesota's Eighth from "lean Democrat" to a "pure toss up" race this week… "It's a neck-and-neck pure coin flip," Mills said Thursday. "All we have to do is park our bus, people are coming up to us, wanting to take pictures, shake hands. It's a really good sign."
UMD junior Kalley Erickson, an economics and political science major, is the vice chair of both the campus and regional College Republicans… In Mills, they've found an ally who will buy them pizza, sit shoulder-to-shoulder and make phone calls with them and, generally, treat them like a member of the family, Erickson said. "We love Stewart Mills," she said.
Newspapers Across Minnesota's Main Streets Endorsing Stewart Mills
Stewart's candidacy for Congress in Minnesota's 8th District picked up another endorsement earlier this week when ECM Newspapers – a group that includes numerous newspapers from main streets around the district – announced their belief that Stewart would best fight for folks in our part of the state. "We believe a new vision for the future is needed from the representative of the 8th District," the ECM editorial stated. "And Stewart Mills' positions are more likely to carry forward that vision."
Tune In to Stewart's Ad Highlighting Hillary and Nolan's War on Energy
Stewart wanted me to make sure you saw our latest TV advertisement broadcast throughout the 8th District highlighting how the devastating effects the job-killing combination of Congressman Rick Nolan's energy tax and Hillary Clinton's war on coal would have on folks in our part of Minnesota.
 
"Hillary Clinton promises to kill mining jobs all across America…. Here in Minnesota, Rick Nolan is doing the same. Nolan supports Hillary's war on coal and he vote for anti-mining regulations that are destroying Minnesota jobs and sticking middle class families with higher energy bills. Rick Nolan and Hillary Clinton are job killers."
Nolan's F-rating by the NRA 
Clearly, Congressman Nolan and Hillary Clinton are more than deserving of their failing grades from the NRA. Nolan's "F" rating isn't that surprising when you consider earlier this year, in response to a terrorist attack, Nolan staged a Second Amendment protest that shut down Congress. As you know, Stewart has spent much of his life advocating for the responsible use and sale of firearms through his position at Mills Fleet Farm and in Congress, he would support our Second Amendment rights and fight any current or future gun control measures.
Duluth News Tribune: What's in an F-rating: Understanding Nolan's Grade With the NRA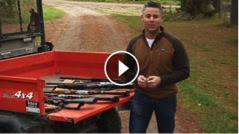 Click here to view Stewart's latest video.
---