Just a reminder of a few upcoming events.
Tonight @ 8 pm will be the second Presidential debate. It will be a town hall type format in St. Louis. It will be broadcast on all the cable and network stations.  
Tuesday, October 11, Pine Technical College will host a candidate forum from 6:00 pm- 8:30 pm. All the local legislative candidates have been invited.
Tuesday, October 18, the Mora Chamber of Commerce will host a candidate forum. This will be at Lakes and Pines and will run from 6 pm-9:30 pm. Again all the local candidates have been invited.
In other news, Seth reports his group made around 700 phone calls on Wednesday @ Judy Soderstrom's. Thanks to all who participated.
Next BPOU meeting on October 24.
Roger Crawford, Chair
Mills Campaign Update – October 7
Good evening,
It's great to check in with you from the campaign trail where Stewart launched his bus tour barnstorming the 8th District. Today, Stewart made a swing through the southern counties of the district with stops in North Branch, Cambridge, and Princeton. With about one month until Election Day, Stewart plans to leave no stone unturned and will be touring the district to rally voters, thank volunteers, get out the vote, and meet and hear from Minnesotans throughout the 8th District.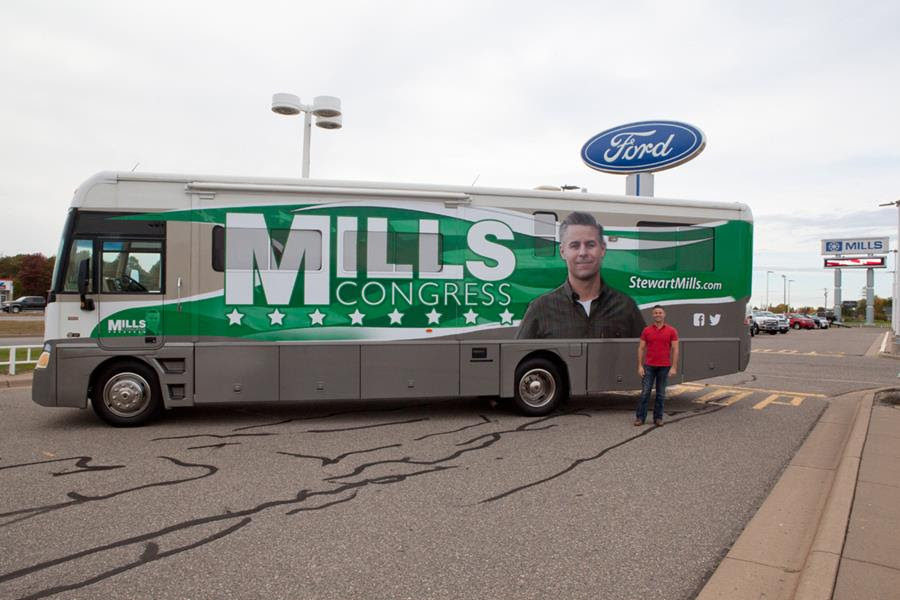 This weekend, he will be meeting, visiting with, and rallying folks in the western portion of the 8th District. Please e-mail me if you have stops, rallies, or visits you want Stewart to make with the campaign bus in your neck of the woods during the final four weeks of the race.
If you haven't seen it yet, please check out our latest TV advertisement broadcast throughout the 8th District highlighting Congressman Nolan's record of lying about Stewart's plan to preserve and protect Medicare and Social Security in a cynical attempt to hide Nolan's record in Congress of slashing Medicare by 24 percent.
"Rick Nolan is lying to us about Stewart Mills to his record of cutting Medicare. In Washington, Nolan voted to cut Medicare reimbursements by 24 percent, jeopardizing the benefits seniors earned. All while voting to increase his own congressional salary and to give himself taxpayer-funded health care for life. Massive Medicare cuts for Minnesota seniors. Taxpayer-funded pay raises and health care for him."
KSTP: Truth Test – Ad Saying Rick Nolan is 'Snuggling' With Terrorists Gets a 'B'
Read this report from KSTP – their words, not mine:
The ad does accurately point out several ways the fight against terrorism is getting closer and closer to home. "Rick Nolan snuggled up to our enemies," the ad says. "Now we understand the consequences." That assertion clearly overstates the blame any member of Congress deserves for terror recruitment and terrorist acts on U.S. soil. But there's no question both those things are happening. "ISIS recruiting in Minnesota. A brutal attack here at home. Eight of our neighbors attacked in the name of the Islamic State."
Those claims are both true. A report by the House Committee on Homeland Security in 2015 named Minnesota as the top recruiting state in the U.S. among 19 states where ISIS was recruiting, mostly through social media. All the claims in the ad are true, except the first line that set the whole tone of the ad: "Rick Nolan snuggled up to our enemies." You can argue whether his votes on some bills weaken our fight against terrorism, but that's hardly equivalent to "snuggling" with terrorists. However, because all the claims except that are true, this ad gets a "B" on the "Truth Test."
Rick Nolan lying about Stewart's opposition to TPP
This week, Congressman Nolan's campaign is in panic mode because they were caught lying once again – this time about Stewart's strong opposition to the Trans-Pacific Partnership. Despite Stewart's record of consistently opposing TPP, Nolan and his allies are using a 9-second spliced and sliced audio clip to back up their falsehoods. Stewart has called on Nolan to release the full audio. You can read the Hibbing Daily Tribune's account where Stewart "sets the record straight" here.
In the past month or so Nolan and his allies have repeatedly been caught lying to folks in our part of the state about Stewart's record. Their TV ads have been yanked off the air because networks found their allegations untrue. Nolan was called out during a debate hosted by the Duluth News Tribune for his lie about Stewart's consistent position to preserve and protect Social Security and Medicare. And of course we can't count the amount of lies Nolan and friends have made about ObamaCare, which Gov. Dayton's Commerce commissioner this week called an "emergency" situation.
Voter deserve better than Nolan's behavior which is why we must do all we can to send Stewart to Congress!
Getting out the vote
Stephen reports this week has been another great week for the Mills ground game! Our three offices skyrocketed past their goals on phones for the fourth week in a row, and the troops have been knocking on doors and building momentum every day. As we move into the final four weeks of the campaign our volunteers will be working to turn out voters who otherwise wouldn't be able to get to the polls. This year, Minnesota has no excuse voting via absentee ballot for the presidential election so if you don't think you will be able to vote on Election Day, contact us at stewartmills.com or e-mail us at volunteer@stewartmills.com and we can help get you what you need.
Next debate scheduled for Sunday, October 23 on TV
Finally, I wanted to ensure you were one of the first to know that Stewart will debate Congressman Nolan once again, on Sunday, October 23. The debate will be live at 6 p.m.from the KSTP-TV studios. The debate also will be broadcast live on WDIO-TV. Make sure you tune in! 
Enjoy the weekend! 
Sincerely,
John Eloranta
Campaign Manager